Main Content
NEW! Hot off the Press.
Authors! Protect Your Book
Client's Fashion Book Launches at #1
Book Coaching – Open the Door
Client Feedback
"Dear Joyce, First let me tell you: I read chapter 1 with some of my friends. Everyone thought your editing was wonderful. All were truly impressed. You did a wonderful, wonderful job. Second, I sent your pitch letter to Andrew Roberts, the world authority on Napoleon, who claimed it was 'excellent'. Again, this is all thanks to you. Thank you infinitely." – Louis Sarkozy, author, Napoleon Was a Reader (publication TBA)

"Dr. Joyce Starr added her unique and special touch to every chapter. She was a Godsend throughout this journey." – Mike Turpen, former Attorney General of Oklahoma, Turpen Time
"Thanks for all of your help in bringing AIM HIGH to life and for always believing in me." – from NBC fashion expert and author, Sydney Sadick, AIM HIGH
"It's always been my secret dream to publish a book. You've inspired me to believe that this material can be a book. You made a major contribution by encouraging me to restructure the book and by suggesting that I change the chapter titles and sharpen the language." – Lynn Beller, The Beller Family Memoir
"You have been so inspiring and encouraging." – from Eva Klein, Professor of Psychiatry and author, Love Later in Life (Publication TBA)
"Terrific job…it was a pleasure working with you." – Elizabeth MacDonald, Stocks Editor, Fox Bus. News, Skirting Heresy: The Life & Times of Margery Kempe
"Dr. Joyce Starr did a superb job of weaving my text into a persuasive and succinct photography book that was accepted by a leading house." – Dr. Cathy Greenblat, photographer, Love, Loss & Laughter: Seeing Alzheimer's Differently
"Dr. Joyce Starr provides the Olympics in author assistance. She transformed my manuscript into a beautiful children's book." – Marcia Miller, Tales From a Tail Wagging Dog
"Bravo! I just finished reading the final proposal Dr. Joyce Starr produced for my client. Proposal writing requires a particular set of skills, as well as talent. Dr. Starr is a seasoned and talented book proposal 'doctor.' She will walk you through the entire process." – NY literary agent Judith Ehrlich
Holyland Journals – Sea of Galilee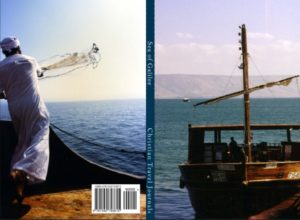 Israel Travel Journals
Five Star Reviews for Dr. Starr
Amazing. Defend Your Condo & Homeowner Rights should be required reading before you ever consider buying a condo! ! It's packed with critical information. She gives you the tools you need to fight these bullies and the encouragement not to give up. – Gary Hoch
"Defend Your Condo & Homeowner Rights was a Godsend to me. I was living in a man-made hell when I found this book. I live in a condo that has been dominated by the same group of people for over twenty years, they thought our building was their exclusive and personal club. Through the use of the knowledge gained in this book I/we have begun to reverse that group's influence and have begun to change the complexion of the Board." – Osborne McLellan
"Thank God you are on the planet helping people take back their lives. They throw the book of legalese at you, and they buffalo you into thinking that they have all the rules. I can finally breathe." – Mary Donald, Minnesota
Smoke Free Condos – 5 Stars! Dr. Starr's work is the gold standard on how to successfully make these changes. Her book includes an interesting overview of case law that seems to favor the nonsmoker and points to the conclusion that there are no legally protected rights to smoke." – Matthew C., American Lung Association
5.0 out of 5 stars WOW! What a fascinating and incredibly timely read!! Dr. Joyce Starr's Israel's Impossible Era: The Human Element in U.S.-Israel Relations opens windows and doors into the minds and hearts of the leaders of two of the greatest and most improbable nations in the history of the world. Dr. Starr shares the inner workings of the minds and emotions of some of the greatest leaders of our time.
5.0 out of 5 stars – Israel's Impossible Era should be required reading at the State Department and White House! Dr. Starr tackles the cultural divide between U.S. and Israeli leaders with insight, empathy and humor. Her remarkable collection of photographs echo hopeful times. An inviting, highly readable and uplifting work.